LU to host 16th annual Civil War Seminar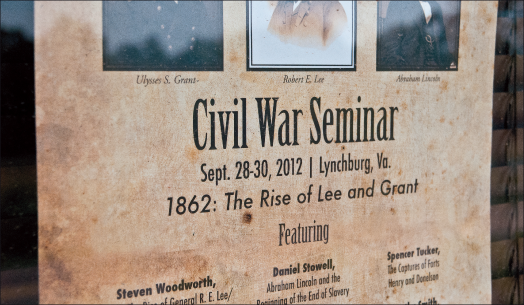 Liberty University will host its 16th annual Civil War Seminar, "1862—The Rise of Lee and Grant," from Friday, Sept. 28 to Sunday, Sept. 30 at Liberty's School of Law, a Liberty University History Department news release stated.
Located in Green Hall, the event will feature lectures on various aspects of the Civil War from nationally-renowned authors, including Michael Ballard and Alan Farley.
In addition to these lectures, scholars from across the nation will be presenting papers. According to the news release, an online "Battle of Antietam" will also be simulated by high school and college students.
According to Secretary for the History Department Kristina Burdeaux, the Civil War Seminar was started by Liberty professors Kenny Rowlette and Cline Hall and was recently added to the history department.
"Rowlette and Hall started the seminar because they have a passion for the Civil War history," Burdeaux said. "They feel it is important to everyone to know the history of our country, and this is a popular war, but many people do not know all the relevant details about the war. This seminar has just recently become part of the history department."
Burdeaux said that she expects a good turnout for the event.
The three-day-long seminar will begin with a period-style banquet Friday, Sept. 21, at 6:30 p.m., continue on Saturday with numerous lectures and a day-long program and conclude on Sunday with a special prayer service at Liberty's Chapel led by Rev. Alan Farley of "Re-enactor's Mission for Christ."
"This year, there are two speakers on Friday night. A silent auction will also take place after the speakers," Burdeaux said. "On Saturday, there will be speakers starting at 8 a.m. and speaking through 6:45 p.m. This year, there are two paper panel sessions as well—one in the morning, and one in the afternoon. On Sunday, a period church service led by Alan Farley will be held in the Prayer Chapel on campus."
Guests will have access to numerous exhibits, artifacts and memorabilia from the Civil War, and vendors will also have Civil War items for sale. Each afternoon, guests will have an opportunity to tour Liberty's "National Civil War Chaplain's Museum."
Burdeaux stressed that the history department is doing more to get students interested and involved in upcoming Civil War seminars.
"The seminar offers free admission to students for the Saturday lectures," Burdeaux said. "We have two paper panels that are new for this year. This is to help bring in more interest with scholars and students who have written papers on the Civil War topic."