Liberty grad to star on big screen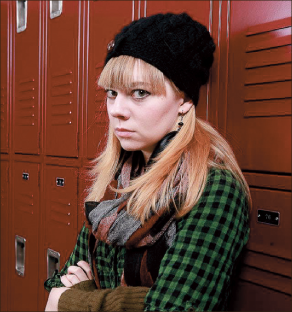 Katie McCaffrey has been cast in her second feature film, 'Secrets in the Fall,' which will begin filming this October
After graduation each year, thousands of Liberty alumni go all over the world with aspirations of making a name for themselves.
Katie (Thomas) McCaffrey is one of those alumni. Currently in pre-production for the second feature film in which she has acted, "Secrets in the Fall," McCaffrey is well on her way to fulfilling her aspirations, and she is no stranger to acting and theater.
Learn more about "Secrets in the Snow"

"My mother studied theater at Liberty during the 80s, so I was raised in it from birth," McCaffrey said.
This home environment was what pushed Katie into the film industry.
"I always knew that I wanted to be an actress, but as a kid I wanted to be in movies like 'White Christmas' and 'Holiday Inn,' doing big song and dance numbers," McCaffrey said.
Although McCaffrey has been working in this field for a number of years, film has not always been her primary focus.
"Over the years, I have done many different things such as voice-overs, radio work, drama in the church, musicals, straight plays. I tried puppetry for a short moment," McCaffrey said.
No matter what area McCaffrey works in, the stage is where she feels most at home.
"I don't think that I can ever go very long at all without being on stage in a live show in some capacity," McCaffrey said.
"Secrets in the Snow" was McCaffrey's first feature film, and "Secrets in the Fall" is its sequel, both produced by Every New Day Pictures. McCaffrey landed a leading role in the film as Camille, a character with an edgy gothic personality.
"This movie is like a modernized 'family-friendly' or Christian version of 'The Breakfast Club,'" McCaffrey said.
"Secrets in the Snow" chronicles a relationship between six students who are stranded at their high school during a snowstorm. Director Brittany Goodwin said that "wills are tested, friendships are created and secrets are revealed as they realize they must rely on each other to make it through the night."
The second film, "Secrets in the Fall," will be following some of the same characters, but will introduce new ones as well.
For McCaffrey, the movie holds plenty of new opportunities.
"This time around, I'm also more than just an actor, I'm helping to produce this film, which has been a learning experience and a lot of fun," she said.
The Liberty graduate also highlighted the importance of learning new things every day.
"I try to learn more about acting every day," McCaffrey said. "I'm always asking more experienced actors for advice, and I'm always looking for ways to hone my craft."
McCaffrey encouraged everyone, especially those who want a career similar to hers, to continue learning, even outside of the classroom.
"In my time as an actor, I have learned and worked in marketing, casting, set design, research and being a rehearsal assistant. The more experience and diversity that you have, the more valuable you are to a production or company," McCaffrey said.
Getting into the film industry was not easy for McCaffrey.
"Acting is a very hard career to choose," McCaffrey said. "This is not for the faint of heart. If I had a dollar for the number of times that I have been told that I didn't have what it took or that I'd never make it, I would be very rich. This is the kind of career that you only choose when you literally cannot imagine doing anything else, but as long as you are willing to work hard to find opportunities and are always willing to learn, you'll be okay."