Lady Flames blank George Washington U.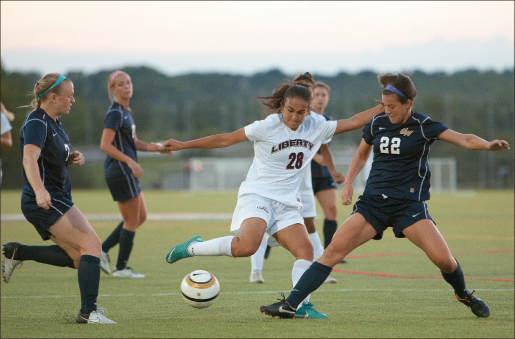 Karen Blocker sets new record with 16th career shutout win
Forward Jamie Bouffard scored the only goal of the game in Liberty University's 1-0 win over visiting George Washington University Friday, Sept. 14 at the East Campus fields. The lone goal came when Bouffard received a perfectly-timed cross from junior Megan Warner and put the ball in the right corner of the net on a diving header.
"It was pretty exciting," Bouffard said. "Megan can cross like none other, and all I had to do was basically stand near the net. It was a great team effort of a goal."
Bouffard also mentioned that the defenders sometimes get overshadowed by the offense in soccer.
"The defenders just played a stellar game, and Lauren Stell and Casey (Norris) just owned it back there," Bouffard said. "So I think that they should definitely get some credit for that."
The game was also a milestone for the women's soccer team as goalkeeper Karen Blocker set the record for career shutouts with 16 games. The previous record of 15 shutouts was held by Natalie Mayer (2001-2004).
Something Special

The Lady Flames went into Friday night with a record of 4-3, having scored eight goals in seven games. The Colonials entered with a 3-3 record, having scored eight goals in six games.
"They play a very similar style, and they have a similarly talented program with strengths that are similar to ours," head coach Jessica Hain said. "I figured it would be a really close game, probably a one-goal game."
Hain's expectations were on the mark as both teams had seven fouls and seven saves during the course of the game. The Lady Flames took 13 shots during the course of the game, which was only three more than the 10 shots the Colonials took.
"We knew that we were very evenly matched," Bouffard said. "We knew that the only way we were going to win was with details, and whoever could execute on those details was going to be the winner."
The Lady Flames made extra effort to pressure George Washington, and their aggressiveness paid off. The ball stayed primarily on the Colonials side of the field, and Liberty won 11 corner kicks compared to George Washington's two.
"At half time, we talked about how it was really going to take something special," Hain said. "Megan's cross was a good cross and Jamie Bouffard had a diving header to put the ball in the back of the net, which in my opinion was something very special."
The Lady Flames next game will be played at home against Presbyterian College, Thursday, Sept 20. at 7 p.m.