Flames score 12 goals in weekend series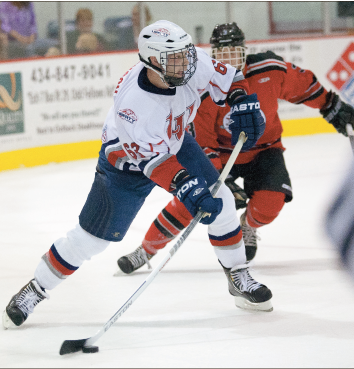 The Liberty men's DI hockey team took on the Atlanta Jr. Knights in the LaHaye Ice Center before a home crowd of 2,500 Sept. 14 at 7 p.m. The Flames won 8-4.
Off to a slow start, the Flames fell to an early deficit within two minutes of gameplay. The Knights pushed out in front, tallying the first goal of the game early in the first period.
Freshman Kyle Garcia responded for the Flames scoring a goal shortly after, making the score 1-1. Liberty continued to advance, with Rick Turner scoring two minutes later, giving the Flames a 2-1 lead.
A missed opportunity during a power play allowed the Knights to push another puck past Brown, knocking him down in the process and tying it 2-2. The Knights scored their third goal on a breakaway to take a 3-2 lead.
Aggressive play turned violent when a fight erupted toward the end of the first period as both teams shed blood on the ice – causing a Knights player to be ejected from the game.
"I'm not proud of the way the Flames handled themselves in the first period, but they did improve," Handy said.
After the fight, the Flames won the puck drop. Unfortunately, their luck ran out, as it was four-on-four hockey with no goals being scored during this time.
Flames rallied to score in the last minute, ending the first period tied 3-3. Both teams had 11 shots on goal.
The Flames were off to a great start in the second period as Rick Turner scored within three minutes after the drop, giving the Flames a 4-3 lead.
Freshman B.J. Pirus scored his first of two goals two minutes later, making the score 5-3.
"Rick Turner and Baumgarten also did a good job tonight advancing the team," Handy said.
Power plays stacked up against the Knights, giving the Flames the opportunity to continue to pound shots at the goalie. The Knights were eager for a fight, always in the Flames faces after every controversial call. However, the Flames remained composed and allowed the Knights to hit the penalty box.
The Flames went on to score another three goals, making the final score 8-4.
Liberty will keep a similar lineup for Saturday's game on Sept. 22, Handy said.