Liberty students flock to Hillcats game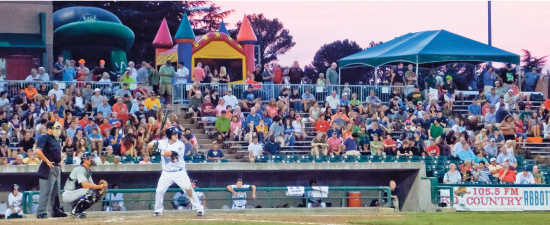 The Lynchburg Hillcats offered minor league baseball at discounted rates to Liberty students Thursday night
Baseball fans, Liberty University students and lovers of cheap entertainment all had one place to be Thursday, Aug. 23. That place was Lynchburg's City Stadium, site of the Lynchburg Hillcats biannual Liberty University night.
The Hillcats, a minor league baseball affiliate of the Atlanta Braves, have collaborated with Liberty ever since the early 1990s to bring cheap, and sometimes free, baseball to students a few times each year.
"Liberty has been the longest-running college night that we've had," Hillcats Assistant General Manager Ronnie Roberts said. "The first Liberty night we had this year in the spring, Liberty sponsored the fireworks, so all students got in free that night. This one is a little bit different. We're tying it in with the other college nights."
This particular promotion allowed Liberty students through the gates for only $2 with their student ID. Non-Liberty students wearing Flames apparel were admitted for $4, half of the original ticket price.
Always stirring up the rivalries, the Hillcats have also held college nights to recognize Longwood University, Lynchburg College, Randolph College, Sweetbriar College, University of Virginia and West Virginia University.
Brian Hicks, a senior at Liberty majoring in sports management, spent his summer as a stadium operations intern for the Hillcats. The highlight of his night was being chosen to throw out the first pitch for his school's night in the stadium.
"I think it's a good promotion," Hicks said. "It gets Liberty students off campus and out here. We get them interested in Hillcats baseball, and they get a good discount on tickets."
As Assistant General Manager, Roberts knows that nights like these are a great way to reach out and let people know that Hillcats baseball is the place to be on summer and fall nights.
"We're always looking for ways to get as many people into the park as we can," Roberts said. "The days of just opening the gates and hoping that pure baseball fans come to see a baseball game are long gone for most minor league teams. You have to go out into the community and make it attractive for the folks to come see a game and maybe come back on another night."
Roberts has experienced almost every type of enjoyment that minor league baseball has to offer during his 22 years in his position, and part of his job is to find ways to get people interested in Hillcats baseball.
For the most part, it looks like he has succeeded. At least that is what Facebook says. Despite playing in the smallest market of the eight Carolina League teams, the Hillcats have the most Facebook friends of them all. That allows them to better spread the word when promotions like Liberty night are happening.
The action on the field was every bit as good as the admission price Thursday night. The Hillcats defeated the visiting Winston-Salem Dash by a score of 8-2.
As the game wrapped up, Hicks shared why he enjoys these types of college promotion nights.
"I think doing this is a good call," Hicks said. "I like doing them all in a row. You can just see the different cultures of the different schools, and they all get to interact."
Opponents and game times are still to be determined, but the Hillcats now look forward to pursuing a Carolina League championship when the playoffs begin Sept. 5.