Students showcase international teas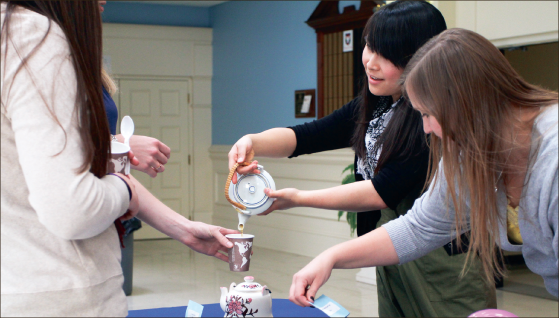 Students and faculty were given the opportunity to taste different coffees and teas from around the world, March 27, and learn about the cultures from which they come.
"Coffee and Tea from Around the World," an event in collaboration with the International Student Center's International Week, allowed students to talk about their homes and showcase a beverage from their culture.
Chung Moo Le, a Chinese native, spoke openly about Jasmine Pearls Green Tea and Organic Blueberry Tea.
"In China, different teas are used for spiritual events," Le said.
He also went on to explain the significance of coffee and where it originated from.
"They found coffee in Egypt at first and it gave them energy, and so they brought it back to China to help the people," Le said.
In China, tea is used not only for spiritual events, but also in training for war as well as for entertaining guests.
"Soldiers are given tea when they are about to enter battle to calm their nerves," Le said.
Some teas in China can also be used as medication for common ailments such as a headache or a common cold.
"Teas are always used for many different aches and pains in China. They are home remedies," Le said.
Several other countries displayed their teas for guests to try. Rayanne Boley, a worker for the international student office, served Masala Chai Black Tea from India and Apple Pie Chai Rooibos Herb Orisin Tea from South Africa.
"Although I don't know much about teas, I think this event is a good way for people to learn about other countries," Boley said.
Paula Tan, a volunteer at the event, stressed that most teas in other countries are made with natural products.
"Here we use tea bags that we buy from the store, but in places like Sri Lanka, they use natural tea leaves and flowers and put them directly into the tea," Tan said.
Several other countries displayed their teas, such as Sri Lanka with Papaya tea and Safari Pure Tea from South Africa. Over six different countries were represented at the tasting.
Katrina Alleyne attended the event and came away with some new information.
"I learned how teas from different cultures vary and how important tea is, especially in China," Alleyne said.
This event was free of charge and open to all Liberty University students. It was sponsored by the Office of International Student Services, located on the second floor of DeMoss Hall.