Liberty men fell to Winthrop over the weekend, 2-3 in conference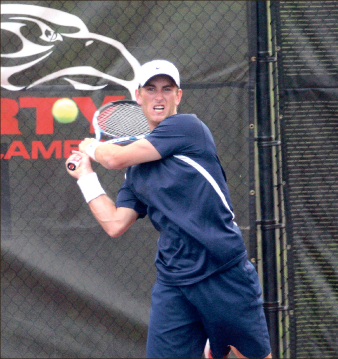 It was a close match-up as Winthrop defeated Liberty's men's tennis team in four of six singles matches Saturday. Following the loss, Liberty is 13-6 and 2-3 in the Big South.
Liberty senior Mandeep Yadav won the only singles match for Liberty, 6-0, 6-2 against Winthrop sophomore Chase Altieri. The Flames benefitted from Winthrop defaults in their doubles matches as they won 3-3.
With the Eagles defaulting in the No. 3 match, Liberty junior Siim Tuus and senior Giancarlo Lemmi defeated Winthrop seniors Guy Kubi and Nadav Ruppin with ease in the No. 1 match-up.
Winthrop freshman Dylan Comerford and sophomore Yuta Hirokawa were defeated in match No. 2 by Liberty sophomore Shea Thomas and junior Tristan Stayt.
The Flames closed the door on doubles matches with an 8-5 win. Both of Liberty's doubles duos grabbed their 10th win of the season with the victories, according to libertyflames.com.
Winthrop defaulted yet again in the No. 6 match, but Liberty was only able to add one point from then on. The Eagles put two more team points on the board to tie the overall match, 3-3.
The deciding match-up was forced into a third set. Thomas took the first set from Yuta, 6-2, but the Eagles took the match with a 6-3 second set. Fans watched with heavy anticipation as Yuta stole the lead, 3-0. Rebounding quickly, Thomas took the next three games, only to lose the final two to Yuta. The Eagles claimed victory in the final seconds, 4-3.
The Flames are scheduled to face off against Longwood on Tuesday at 1:30 p.m.