Softball back on track after 'Webb series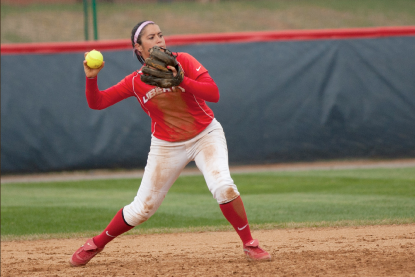 A weekend sweep of the Lady Bulldogs gave Liberty much-needed confidence
The Lady Flames snapped an 11-game skid while visiting Gardner-Webb in Boiling Springs, N.C. Head coach Paul Wetmore's squad swept the Lady Bulldogs, winning the first game of a Saturday double header 4-0 and the second 8-3, and completing the series Sunday with a 7-5 win.
Liberty collected 11 hits in Game One, led by Sammi Shivock's three base hits. Seven players had at least one hit and three recorded a multiple-hit game.
Pitchers Chandler Ball and Alyssa Dimartino combined for eight strikeouts and surrendered only one walk. Dimartino was credited with the win.
Meredith Crisante, Bridgett Woods and Amber Donovan each collected two hits in the second game of the double header. Woods' three-run shot over the fence in the second inning was a huge boost for the Lady Flames and provided a 4-0 edge early in the game.
Ball and Dimartino paired again for five strikeouts and no batters walked.
In the third leg of the series, Shivock launched a three-run homer in a huge fifth inning that plated four Lady Flames on five hits. The Flames finished with nine hits on the day and improved their record to 9-15 (3-1).
The success over the weekend comes after a disappointing Texas roadtrip (0-8) and a forgettable series against Cornell at home.
Liberty fell twice to Cornell Thursday, March 22, in a split doubleheader.
"It's a long season yet, and it's all about conference, so this week is big for us," head coach Paul Wetmore said.
The Lady Big Red Bears blanked the Lady Flames in the first leg, 7-0, and rallied in the second leg to notch the 7-4 victory over Liberty.
Junior Kristen Towne homered to center field for Cornell to put the first points on the board. Cornell pitcher Alyson Onyon allowed just nine hits and four runs in Game One. In Game Two, senior Kaylee West singled to second base in the fourth, allowing for sophomore Sammi Shivock to score a run.
In the fifth inning, the Lady Flames lit up the board with three hits and three runs. Senior Bridget Woods singled to right field, sophomore Jill Stephens got a pinch hit for Zavodny, and Shivock doubled to right center. Senior Jenny Law scored the last Liberty run of the evening.
"We just need to remain strong and keep a good attitude," Shivock said. "And remember to do our best."