Seeking to solve the water crisis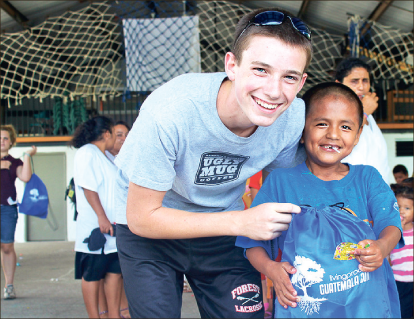 Local teen partners with Causelife to bring clean water to Guatemala
After seeing the physical needs of the Guatemalan people on a church mission trip, 16-year-old Lynchburg resident Hunter Smith is on a mission to raise funds and awareness for their country.
"While I was there in Guatemala, I fell in love with the country and its people," Smith said. "When I came back, I really wanted to do something to help the Guatemalans. A couple weeks after the trip, God gave me the idea of raising money for a well."
Now planning the Agua Pura 5k, which will take place March 31 on Liberty University's campus, Smith hopes to use the money from the event to provide clean water and dig wells for Guatemalans.
Smith said he began planning the 5k fundraiser for the people of Guatemala after a previous mission trip where he witnessed an urgent need for clean water sources for the villages he visited.
"Last summer I went on a trip to Guatemala with Causelife and my youth group at Thomas Road Baptist Church. That was my first trip out of the country and my eyes were really opened to the poverty and sickness that was there," Smith said. "It's one thing to hear about or look at pictures of the poverty here at home. But it's another thing to see it firsthand. It changes how you look at things. It made me appreciate the things we take for granted, like clean water."
Smith is partnering again with the Causelife organization for this event. Causelife's focus is providing water to people around the world who are not able to access clean water. Through events, such as the Children of the World concerts, often seen during Mission Emphasis Weeks at Liberty University, they bring awareness and hope to people groups all over the world.
"We don't think about clean water because it's everywhere here. It comes out of our showers and our faucets. We have water fountains to drink from that are accessible to us just about everywhere," Smith said.
After visiting Guatemala with his church, Smith said that he realized that water is a novelty, not a right.
"Many Guatemalans get their water from contaminated sources," Smith said. "As a result, they can catch diseases that potentially kill them."
"Personally, I have a heart for that country, and I want to help bring them physical help and the truth of the Gospel," Smith said. "It's been amazing to see how God has guided me in every detail."
The Agua Pura 5k run will take place at Liberty's outdoor track in Green Hall. The cost is $20 to participate. Refreshments will be provided to registered runners. Additionally, all participants who register prior to March 19 will receive a complementary T-shirt.
"A well costs $5000 and will provide clean water for up to 500 people a day for around 10 years," Smith said. "Right before Christmas, I only had a little over $100. Now, just a couple months later, I've been able to see God provide over $9000 toward a well through me and my friend, Hunter Nash. We are now hoping to drill a third well with the proceeds from the Agua Pura 5k."
Liberty University and TRBC have assisted in Smith's planning efforts, providing both the facilities to host the 5k run and promotional support for the event.
"I believe that God has called us to help the needy and broken as a way of showing God our love and showing the world the love of Christ," Smith said.
For more information about registration or volunteering for the run, contact Hunter Smith at live4jesus.hs@gmail.com. To register for the Agua Pura 5k run, visit www.eco-xsports.com/aguapura or go to the Aid Station in Forest, Va.