Mosaic Mixer kicks off International Week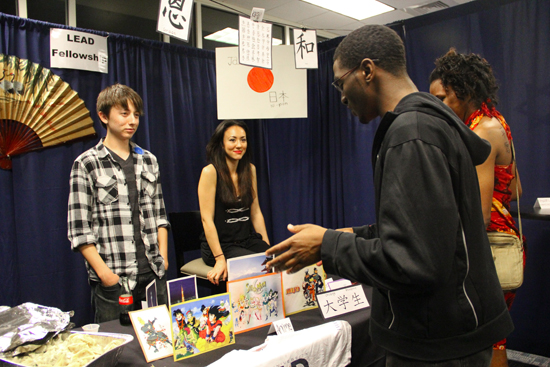 Hundreds of students filed into the Williams Stadium Club Pavilion, Friday, March 23, for a culture filled evening. The Mosaic Mixer, hosted by Liberty's Center for Multicultural Enrichment, showcased energetic step dancing, rapping and an international fashion show for students from all backgrounds and cultures to enjoy.
"This is the first time the Center4Me has hosted this event," Director for the Center4Me Melany Pearl said. "We won a grant from the National Christian Multicultural Student Leadership Conference and that allowed us to be able to put this event on."
"The Mosaic Mixer is supposed to represent beauty and diversity, so it represents the body of Christ," Associate Director of the Center4Me Anthony Lopez said.
An array of countries and cultures were present at the mixer, with individual booths designed to capture the essence of each culture. The booths offered students a taste of different heritages, providing food samples and facilitating conversations in the native tongues from the designated country.
The performances of the night began with a spirited rap performance from the performer Advocate, also known as Liberty student Christopher Smith. Smith began rapping at age 13 in Maryland and has recently released his first Christian Rap CD.
"I really enjoyed the performance. The ambience of the event and the band did a lot for me, and the crowd participation really helped me perform," Smith said.
The mixer hosted numerous multicultural clubs and organizations from Liberty's campus and allowed for College for a Weekend students to gain information about clubs and sneak-peeks of upcoming events.
One of the clubs in attendance was the Band of Leaders.
"The Band of Leaders is a student organization on campus that emphasizes student leadership," President and Founder of the Band of Leaders T.C. Cutherbertson said. "We build a community of students here on this campus and then we go in the Lynchburg community and do community service projects."
Cutherbertson started the organization because of his heritage.
"I am from urban city Detroit, Michigan, and there's not a lot of opportunity for high school and college age students. What we want to do is to go back into the urban areas to encourage other young people to develop themselves as God made leaders. To work toward what they want from life," Cutherbertson said.
Liberty Alumni and Youth Leader of Colonial Baptist Church in Maryland Nia Anderson attended the mixer with 10 students who were visiting Liberty for College for a Weekend.
"We didn't have these kinds of events when I went to Liberty," Anderson said. "This really brings everybody together and you get to see all the different people who are here at Liberty," Anderson said.
Students also dressed in their countries attire and performed in a student fashion show as well. The bright colored tunics and festive hats added flavor and provided photo opportunities to the energetic room full of students.
"We wanted everybody to see that Liberty University is united. We do have diversity besides what people might think, and we believe in multiculturalism. Even though we are different nationalities and different backgrounds, we are still united in Christ," Lopez said.
The Center4Me and International Student Center is partnering with the Band of Leaders for The United Night of Prayer and Worship, taking place in Doc's Parking Lot on April 27 from 9 p.m. to 11:30 p.m. Students from all cultures and backgrounds will be able to gather to pray for countries and worship collectively. For more information about upcoming events contact Center4Me on Liberty's website.