Euphoric euphonium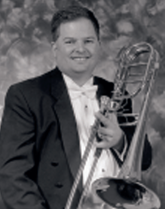 Acclaimed musician performs for small crowd
During his visit to Liberty University, Dr. David Stern performed a euphonium and trombone recital to a small crowd in the Oldham Recital Auditorium on Monday, Feb. 27.
Dr. Kevin Chiarizzio, an associate professor of brass and music education at Liberty, introduced Stern as a personal longtime friend and fellow musician.
Stern is the current director of Instrumental Activities at Anderson University in South Carolina.
He earned his doctorate in Fine Arts and Masters in Performance from Texas Tech University and his Bachelor of Music Education from the University of Colorado.
Stern teaches tuba, trumpet, euphonium and trombone.
He began his music career in the fifth grade and attributes his introduction to brass to one woman.
"Marcie Brown. In the fifth grade I wanted to play music but had an overbite, and she grabbed my chin and said, 'Come back in three hours. You're going to play baritone.' I didn't know what a baritone even was, but I came back three hours later and it was by the grace of God that he put me in brass," Stern said.
The evening began with friendly banter between Stern and Dr. Samuel Wellman, who is a professor of music, piano and composition at Liberty.
Stern played euphonium for the first three pieces of the evening and was later accompanied by Chiarizzio for the fourth piece in a trombone duet.
Elena Roussanova-Lucas, who married one of Stern's trombone teachers, composed the second piece, Fantasy for Euphonium and Piano, on commission from Stern. Before playing, Stern described the sounds of the first movement feeling like walking around Moscow.
The third piece was Vinicio A. Meza's Retratos, which means "pictures" in Spanish. Stern asked the crowd to envision a traditional Spanish bullfight as he played the piece.
By the fourth movement of Retratos, Stern played a Spanish Blues melody and informed the crowd of how unusual blues tunes were for the euphonium.
"I'd like to say I'm the first euphonium player to play blues, but I can't. I probably won't be the last either," Stern said.
David Wilborne's Southern Jazz Duets was the last piece of the night. It was a trombone duet played with Chiarizzio that was full of New Orleans flavor.
Many audience members were music students and their guests.
"I already graduated, but I came with my husband who is a student, and my favorite part was the jazz duets," Eliza Mobley said.
Another student was pleasantly surprised at the sound of the euphonium.
"My favorite piece was definitely Fantasy for Euphomium and Piano. But I also enjoyed Retratos as well. I was surprised at how the euphonium had such a wide range," Jordan Schultz said.
The recital ended with applause from a warm and receptive audience, and Stern stayed for a few minutes afterward for questions.