Sports Talk: Ministry happens outside the classroom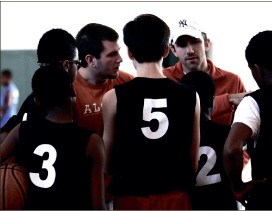 Here's the picture— 13-year-old Carlos and his buddies are down 13 points at halftime of their Saturday-league basketball game, organized by Lynchburg Parks and Recreation.
Coaches Chris and Kelsey Mabes and coach Eli Overbey corral Carlos and the rest of the Hawks team.
"We got this," Chris tells them.
Shortly after the start of the second half, the Hawks claw back into the game thanks to a scrappy press and determined offensive rebounds — both of which require what the guys in the biz call "heart."
The guys feel the momentum shift. The bigger, more talented Nets are being outscored, outrebounded and outplayed by Carlos' Hawks.
Chris and the subs go nuts with every basket.
The Hawks tie it up and then 14-year-old forward Aaron hits the go-ahead basket and draws a foul.
His teammates help him up and slap fives.
The Hawks must not know how far ahead they are. They're still in "heart-mode" — pressing, rebounding, forcing turnovers.
They win 42-31, after being down 15-5 at the end of the first quarter. That's what the guys in the biz call a comeback. You know, one of those things that happens because of "heart."
Now rewind to a month ago.
"Three weeks ago, there was a game where they flat out gave up," Chris said. "They were walking up and down the court and their attitudes were just bad."
So, why the change? Why the sudden pluck? You don't just go to the store and pick up a "belief-in-self" shake.
Why did Carlos and the guys keep fighting, believing in the win?
"He doesn't quit on us," Hawks point guard, 14-year-old Bryce said. "Even if we're losing by 20, he doesn't quit on us."
Chris Mabes, a Liberty senior, started coaching youth rec basketball last year. He and his wife Kelsey, also a Liberty senior, felt a call to minister to kids by challenging them to do things they never thought they could.
It's not an internship, CSER or a class project. This is more grassroots than that.
"Every kid needs to be able to see they are, who God says they are, and if no one tells them that, they won't believe it," Chris said.
Basketball provides the opportunity for Chris and Kelsey to show Christ, not just share Him.
"We pray before practice and games, and we take our game MVP to McDonalds and we have the opportunity to share with them that way," Chris said.
The mentorship and sheer investment by Chris, Kelsey and Eli, a Liberty grad student, has slowly refined some of the rougher edges of the team.
"They're a lot less selfish," Chris said. "They understand teamwork. We'd be in a huddle at the end of the game at the beginning of the season, and they'd get mad that they don't score. Now they're high fiving each other like, 'Yeah, man, you got four steals, and it's good to see them encouraging each other," Chris said.
The team believing in themselves is just a byproduct of a learned example, demonstrated by Chris.
"I show that through defending them in a game or looking out for their best interest," Chris said. "I'm not all about winning, but to have fun and to grow into leaders."
Simply, "he encourages us to win," Aaron said.
"Yeah," Bryce said.
"Yeah," Carlos said.
It's Liberty students making an impact by taking Christ outside of the classroom.
"In the end," Chris said, "it comes down to when these kids are loved upon, they respond a lot more. When they do finally buy in to what you're trying to do, they'll do anything for you. And I like that I can make an impact."
"He taught us about life — to not quit. To keep on striving," Carlos said.
"Yeah," Bryce said.
"Yeah," Aaron said. "Keep playin'."