Senior students exhibit art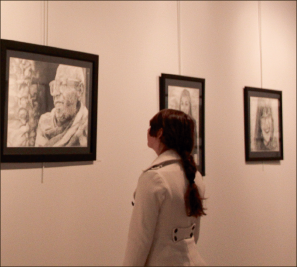 Art majors display portfolio collections
Art can take many shapes and forms. It can be molded, sketched or painted but no matter the form, the Senior Portfolio Exhibit at Liberty University offered a gallery of student rendered art to be admired from Feb. 10-18.
The Senior Portfolio Exhibit was a culminated collection of student's art that was displayed in the Liberty University Art Gallery. Each Studio and Digital Arts major was required to participate in the exhibit while completing the ARTS 492 course, offering them a platform to display the work they created during their time at Liberty University. More than 150 people were in attendance for the opening ceremony Feb. 10.
"The Senior Portfolio Exhibit is meant to showcase the work of graphic design, studio art and art education students in the Studio and Digital Arts Department. It includes a wide range of media including photography, graphic design, paintings, drawings, etc.," Associate Professor of Communication Studies and Chair of the Department of Studio and Digital Art Todd Smith said.
The Gallery assistant, Katelyn Coogan, participated in the 492 Exhibit during her undergraduate studies at Liberty.
"The purpose of this exhibit is to not only showcase the ways that God has gifted each one of the students featured, but also display the development of the artists coming through the program and prepare them for their professional futures," Coogan said.
The exhibit featured a wall for each artist's collections. During the course of the spring semester, other artists in the Arts 492 class will also have the opportunity to showcase their work for a viewing audience. Over 500 people walked the gallery during the eight-day exhibit.
"This particular exhibit is limited to seniors. We have other shows, such as the photography show, the juried student art show and various other shows that allow all undergraduate students to enter work," Smith said.
In order for students work to be displayed, it must go through a board of professors who advise and critique the collection prior to its exhibition. "As a part of their capstone course, students have to present their collection in front of a panel along with their portfolio," Coogan said. The board consisted of professors Phillips, Paul Reynolds and Sandra Slayton.
"This show really helps the artists to brand themselves as well as strengthen their skills. This is the last class the students take so it is intended to refine their abilities," Coogan said.
"I think this show is important because it exemplifies the students we want to send into the field of studio art, digital design and education, who will act as 'salt and light' to those around them and bring glory to God and reflect his creativity," Smith said.