Preseason favors Flames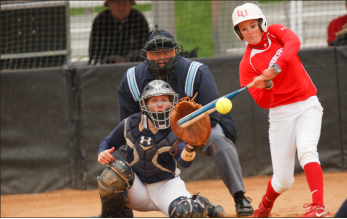 As the first pitch of the season approaches, the Liberty baseball and softball teams are both ranked second, respectively, in the Big South preseason polls. However, both programs have one goal in mind: a conference championship. Flames baseball will try to improve on their second place finish in the Big South last year, and the Lady Flames will be working toward a repeat Big South championship.
"We want to repeat," head softball coach Paul Wetmore said. "To be back-to-back champs is a high feat. People don't understand how hard it is to win a championship."
Coming off the first All-American season by a Liberty softball player, second baseman Kelly Strickland is undoubtedly one of the leaders of the team.
"I think there may be a handful of players that pay attention to the rankings, but I don't think it's weighing on anybody's mind," Strickland said.
Wetmore also pointed out that the rankings don't take into account the impact of incoming freshmen, players who graduated and players who got better.
"We lost some home run power, but we also developed more people this year. We brought freshmen in who are going to be impact players," Wetmore said. Without a doubt, it will be hard to replicate the 61 home runs the team racked up in 2011.
Both Strickland and senior Kaylee West see Radford as their biggest competition.
"They're always tough to beat. They always have good hitting and good defense," West said.
The Lady Flames know that there is a target on their back as conference champions, but, according to outfielder Michael Robertson, the baseball team is quite comfortable with their underdog status.
"I would rather be an underdog, sneak up and surprise some people," Robertson said.
Robertson enjoys the Flames ranking but cautions against reading too much into it.
"It's an honor to have, but it really doesn't mean much once the season starts because if you don't produce, it's just writing on a paper," Robertson said.
No. 1 Coastal Carolina is the biggest team on the Flames' radar, but Robertson has confidence that the team's offense can hang with anybody.
"In the three years I've been here, this is the most talented offensive lineup that I've been a part of," Robertson said. He also added that, as long as the team can move people on the bases and throw strikes, replacing the people they lost to professional baseball last year should be easy.
The recent warm weather has helped considerably as the baseball and softball programs prepare for the season.
It has allowed the baseball team to take ground balls and hit outside, and the Lady Flames are happy to be practicing outside of the Schilling Center.
"This is actually the first time that we've had a week full of outside practice where we've gotten ground balls, so that helps us a lot defensively," West said. Hopefully, the extra practice outdoors will lead to success when the season starts.