Flames victorious in weekend series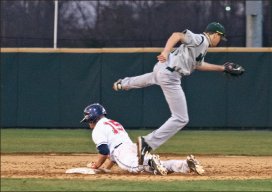 Michael Robertson and Zack Haley provided key hits in victories Saturday and Sunday afternoon
Jim Toman's Flames baseball team split a Saturday series with visiting Siena College, taking the first game, 1-0 and dropping the second, 7-9. Sunday, the Flames picked up another win.
Game 1
The first game of the Flames baseball team's Saturday home doubleheader against the Siena College Saints featured bats as cold as the wind blowing across the field.
The Flames offense could only muster up one run, but that was enough for starting pitcher Patrick Eckelbarger in the 1-0 victory.
The senior powered through all seven frigid innings, picking up the complete-game win without allowing a run.
"I felt sharp. I could command my fastball basically anywhere I wanted today, which was a really big help," Eckelbarger said.
Both teams had their share of offensive chances, but Liberty broke the scoreless tie in the fourth inning with a pair of doubles from Michael Robertson and Tyler Cox.
"They said he stayed middle away, so I was just looking middle away and was able to get a double out of that," Robertson said.
According to Eckelbargar, the turning point in the game was getting out of a situation with runners on second and third base in the fourth inning.
"It was a big inning," Eckelbarger said. "I know we had a ball thrown into right field. It was an accident, but I knew our infield would help me out behind me. I believe we scored the next inning, and then we got the hold in the next inning. That basically sealed the deal."
Game 2
The second game of the double-header was not as fortunate for the Flames as the first leg of the series.
The Flames were impressive at the plate with 11 hits, but ultimately lost the game defensively, 7-9. On the mound, they only had three strikeouts but walked nine players.
"I didn't think that we came out with any fire," pitcher Alex Close said. "I know I didn't on the mound, but I know I am going to be better next time. We kind of got complacent today. Our captains are all pretty solid and I think we'll come out tomorrow with a whole different attitude."
The Flames' second baseman, Bryan Aanderud, was the biggest hitter of the evening game for Liberty. He went 3-for-3 with 1 RBI and scored 2 runs.
"Regardless of who you're playing, baseball is not an easy sport to get on top in and maintain a lead every time," Aanderud said. "It certainly wasn't our best game. We should've had a little better energy. There's a lot of room for improvement after this. When you lose a game, it's hard to say how you contributed, because obviously it wasn't enough. We give thanks to God regardless of the situation."
"We're hitting good as a team," captain Michael Roberston said. "We just didn't get the timely hits like we did last week."
After Saturday, the Flames stand at 7-1, while Siena moves to 1-6.
Sunday
The Flames capped off their weekend with a 4-2 afternoon victory against the Saints.
Flames shortstop Zack Haley collected two RBIs off three hits in the win.