More businesses offer Flames Cash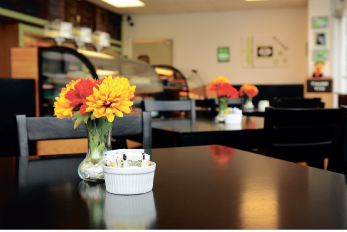 Sweet Stellas and Yogurt Yeti are the newest additions to the list of merchants that now accept Flames Cash from Liberty University students.
Sweet Stella offers a variety of baked goods, including brownies, muffins, cakes, cookies and cupcakes.
Owner Linda Conley prides the bakery on the fact that everything is 100 percent made from scratch. The "Lobster Tail," a top selling pastry that is flaky and crème filled, usually sells out fairly quickly each day, Conley said.
Yogurt Yeti offers self-serve frozen yogurt, indoor and outdoor seating and free Wi-Fi for customers.
"We really believe in Liberty, and we love the vision of raising Champions for Christ," Yogurt Yeti owner Patrick Neff said.
Both locations look forward to business with students and have great things to say about the student body.
"The Liberty students are just so friendly," Conley said. "We had been making snowflakes out of coffee filters, and the students just came in and helped out. It really felt like family."
The Flames Cash program is anticipated to bring students, and their business, out to these locations.
Sweet Stella's is located at 7106 Timberlake Road in Lynchburg and is just minutes from Liberty's campus.
Yogurt Yeti is located at Wards Crossing West on Simons Run, next to Ross Dress for Less.