Amoo, Aseweh selected by Major League Soccer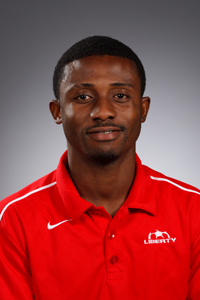 The list of Liberty Flames in pro sports just got a little longer this month, with soccer players Darren Amoo and Phillip Aseweh both being taken in the supplemental MLS draft. Amoo will be playing for the Columbus Crew, and Aseweh will be taking his talents to the Houston Dynamo.
"The MLS is the highest level of soccer available in this country," head men's soccer coach Jeff Alder said. "There are a lot of players who've played in the World Cup who play in this league. It's the equivalent of an LU student going to the NBA or NFL. That's the kind of soccer we're talking about."
Both Amoo and Aseweh took a winding road to get to Lynchburg, with both coming to the United States from Ghana for their collegiate careers.
"These are two more guys in a long line of players from Ghana who've had a great experience at Liberty," Alder said.
"Darren was in Ghana and one of our former players had a connection with him and put the two of us together in terms of being able to contact Darren," Alder said. "Phil was at Virginia Tech and contacted us after his freshman year looking for this kind of environment. I think our Christian environment combined with the rich tradition and history we have in soccer was very appealing for these guys."
Just as Liberty was a perfect fit for the young athletes, Amoo and Aseweh are perfect men to represent Liberty.
"Both of them are outstanding characters. Both are Dean's List guys. They were very focused on getting their degrees and studying in the classroom," Alder said. "Both are very passionate about getting better each day. They've allowed us to foster and develop their talent in order for our team to be successful and, ultimately, for them to be successful as individuals."
Their success as Liberty Flames garnered the attention of numerous scouts from the MLS and soon it became clear that they might be receiving phone calls on draft day.
"I was actually working out in the weight room," Aseweh said. "When I finished, I picked up my phone and I had several missed calls. One was from a teammate. One was from my agent, Matt Nagel, and one from coach Alder. So I called my agent back, and he filled me in on everything that happened. I was drafted Tuesday, the 17th, and I needed to report to Houston by the following Saturday."
With less than a week to get his affairs in order, Aseweh headed for Houston to start his life as a professional player.
"I didn't really know what to expect, but I was pretty peaceful. I had so many people praying for me — friends, teammates and family. That's very special for me. God is going to glorify Himself through my life with this opportunity," Aseweh said. "Houston will definitely be a good fit. It's a young team, there's a lot of energy in the locker room."
The Houston Dynamo's young squad is coming off a season in which they narrowly missed out on a MLS Cup Championship, losing 1-0 to the Los Angeles Galaxy.
"On draft day I was on a train heading back home," Amoo said. "While I was on the train, I got a call from my agent Matt Cohen, and he told me that I had just been drafted by the Columbus Crew. Going in I was just praying for a team, any team, that would give me a chance to showcase my talent. Coming out of college, it's hard to get an opportunity."
For Amoo, who arrives in Columbus, Ohio, on Tuesday for the beginning of training camp, playing in the United States was not actually his boyhood dream.
"Five or six years ago, I dreamt about playing in a European league, but God had a different plan. He brought me to America for school and soccer. I'm just going to do the work and let God take me wherever He wants me to go. I'm trusting God completely," Amoo said.
Alder is confident in his former players' abilities but had one word of advice for the young stars.
"I've told both of them that the best quality to have is selective amnesia, to stay confident regardless and recognize that the next play is always the most important play."
Liberty's reputation in the soccer community stands to gain a lot from these two success stories.
"(We'll gain) visibility and credibility with kids around the globe that are looking to get a Christian education and play soccer for God. For us, it's about finding Christian kids who can play at a high level," Alder said.