Christmas in Lights brings holiday glow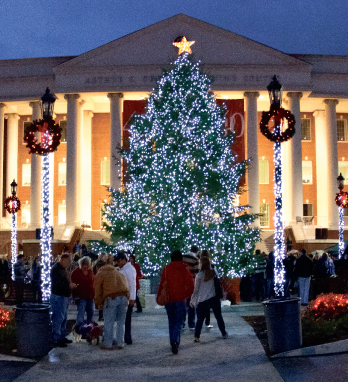 Liberty's second annual tree lighting ceremony draws a crowd
'Tis the season to be bright, and Liberty University is celebrating by covering campus in Christmas lights.
Liberty held its second annual Christmas in Lights tree lighting ceremony on Nov. 28 at 5 p.m., and despite the threat of inclement weather, many students showed up to join in the festivities.
"I really enjoy Christmas, so it is always nice to have a fun event like this to ring in the holiday spirit," freshman Daniel Spencer said.
The evening kicked off with the singing of Christmas carols by the Chamber Singers and the Liberty Choir, followed by a word from the Chancellor. The festivities concluded with the lighting of the Christmas tree.
"The Christmas tree came from Crystal Springs Farm in Pennsylvania, located near the Poconos," Alese Chandler, associate director of Student Activities, said. "It (the tree) measures 30 feet tall."
According to Chandler, the idea to bring Christmas cheer to campus began last year when Chancellor Falwell and his wife, Becki Falwell, expressed the desire to decorate campus in order to lift the spirits of students and faculty alike.
"The Chancellor really wanted to decorate for the season and said that it would be a great way to spread Christmas cheer, encourage students and make for a great finish to the end of the semester," Chandler said.
Free hot cocoa and gingerbread cookies were served by Sodexo food services at the event, and Santa hats were passed out to students after the tree lighting ceremony was finished. Rain forced the program to be held two hours earlier than schedule.
"It really is kind of a yucky day for the tree lighting ceremony, but I just had to come out and support Liberty and enjoy the ceremony. I think it all turned out really well, even with the rain," Spencer said.
According to Student Activities, the event took several weeks to prepare for and could not have been done without the help of Field Operations, which is led by Scott Starnes.
"The decorations were not accomplished through Student Activities manual labor … all of the decorating was done by Field Operations. This crew of people worked tirelessly until the Wednesday before Thanksgiving to get the job done well," Chandler said. "Without their hard work we would not have such lovely decorations."
Senior Jacob Vinson is one of many students who appreciates the Chancellor's new tradition of Christmas in Lights.
"I think that Field Operations and Student Activities did an excellent job with the decorations and making Liberty look festive. I think it is a good tradition that hopefully Liberty University will continue to carry on for many years," Vinson said.