SA Fun Run: Creativity welcomed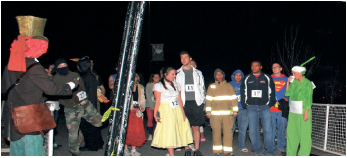 The fall season has arrived, and at 8 p.m. Monday, Oct. 31, students will pull out their best Halloween costumes to participate in the second annual Halloween event, the Costume Fun Run at Snowflex.
Halloween is a time for people to buy candy and get dressed up in their most elaborate and creative costumes. Liberty is getting in the spirit too with the Costume Fun Run, which provides an exciting way for students to come together and show off their best Halloween costumes while getting a good workout.
"The Costume Fun Run is a 2k race that focuses more on the costume then the race results. We will register names as we do every other race, but we will not carry through with race results. We will have winners but the competition will revolve around the costumes. So we're hoping people get creative," Associate Director of Student Activities Alese Chandler said.
The event is popular in many places, and last Halloween was the first time Liberty hosted one of its own.
"We're hoping to make this an annual event," Chandler said.
The purpose of the fun run is to provide pure entertainment and joy for both the fans and the participating students. Bonding with friends and creating crazy memories is why Liberty decided to host the run.
"Most folks that give time to a Fun Run just want to have fun with friends doing something silly together to create a memory. We want to do just that. Give our students here at Liberty a good social memory," Chandler said. "These are the kinds of things you can connect on when you become alumni. I can hear the conversations now, 'Hey, remember when we dressed up like the Three Stooges for that race? That was a fun time,' something like that."
Students can come and dress up in any creative costume as long as it abides by the Liberty Way. The fun run is not only fun for those involved, but it also gives students the chance to win prizes in special categories.
"We are having prizes for Best Group Costume, Best Couple Costume and Best Male & Female Costume," Chandler said.
All students who register before Oct. 22 will be given a free race T-shirt. Printable registration forms and race information can be found on Liberty's Student Activities website at liberty.edu/campusrec/studentactivities.