Month of hope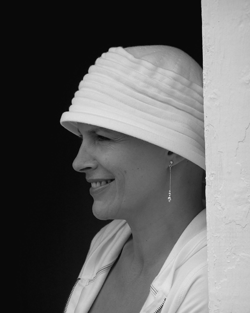 One moment can change everything. One test, one result and one diagnosis can alter the life of an individual and their family forever.
Heila Radtke was in her last year of high school, preparing for Liberty University, when her mother, Gil, was diagnosed with Breast Cancer in 2005.
"The doctor came to our house to talk because the cancer was large and needed to be treated immediately," Radtke said.
The mass was inflammatory breast cancer, an aggressive tumor that grew to six centimeters in diameter, slightly smaller than a baseball, and had passed through her right breast into her sternum, bones, liver and blood.
"We were sad and hurt at first, but her faith is what got her through," Radtke said. "She was a woman of God who ultimately knew that God had a perfect plan, and He would have His hand of protection over us children and my dad."
For treatment, Radtke describes it one way, "Chemo. Chemo. Chemo."
"She was given chemotherapy three different times and different years," Radtke said. "Two surgeries were done to remove the cancer, and yet the cancer reappeared each time."
Gil Radtke had a lumpectomy performed after her first round of chemotherapy in 2005. When the cancer returned in 2008, further surgery was done to remove the cancerous tissue.
Being a Liberty student was hard for Radtke, knowing she was so far from home and from her mother.
"I went to school but always felt guilty I was leaving her behind," Radtke said. "I took off my last semester before graduation. I could either graduate or be with my mother. I am so thankful that God answered my prayers and I was able to be there with her."
Gil died at home with her family, March 24, 2009.
Radtke returned after her mother's death to complete her degree, but has returned again to study nursing.
As October's signature pink pops up around the country, Radtke sees the true meaning behind the month.
"It's a time that people should take seriously," Radtke said. "It's a time of remembrance but also rejoicing."
Radtke now sees Breast Cancer Awareness Month as a tool to be able to touch others with her experience.
"God puts circumstances in our lives to change us. God used this to make changes in my whole family," Radtke said. "I now stand in my faith and I am more willing to share the love of God to others because of my story."
This year National Breast Cancer Awareness Month is celebrating its 25th anniversary. Central Virginia and the Nation are raising hope for those touched by the disease.
Susan G. Komen for the Cure held their 6th Annual Survivor Celebration Friday, Sept. 30, at the Jefferson Hotel in Richmond, Va.
"About 350 people, mostly breast cancer survivors, gathered just to celebrate life and the journey they have taken," Susan G. Komen Central Virginia Executive Director Linda Tiller said.
As the group gathered, keynote speaker Katrina McGhee from the Susan G. Komen for the Cure National organization reminded people of how survival rates have increased.
"At the beginning, the survival rate was not that great," Tiller said. "Now, with early detection, breast cancer can have a 98 percent survival rate over five years."
With events like Survivor Celebration, Tiller is hoping to bring greater awareness to the need for women to be examined.
"Early detection is critical to survival," Tiller said. "This is why we spend every October educating women and men everywhere about breast health awareness and bringing a message of hope for those diagnosed."
Events are taking place this month across Central Virginia and the Blue Ridge Mountain area in honor of breast cancer awareness. For full details on events and more about Susan G. Komen for the Cure, visit komenvablueridge.org or komencentralva.org, or call 1-877-GO-KOMEN. For information about National Breast Cancer Awareness Month, visit nbcam.org.