Lighting up the night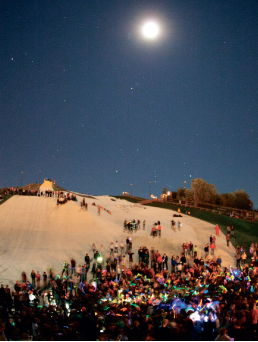 Snowflex hosts colorful late night event
Midnight Madness, an approved late night event for Liberty students, was held Friday night.
"It's Liberty, so I'm expecting something great," freshman Justin Gibson-Faber said.
Expectations for a large crowd were also high.
"These guys (professional Snowboarders and Transworld Magazine) draw a good crowd, and we expect to see people from North Carolina, Tennessee, Maryland and West Virginia come just to see them," General Manager and Liberty Alumnus Drew Sherwood said.
Sure enough, there was a huge turnout that seemed to overrun the Centre. Once the okay was given, students streamed into the actual snowboarding area.
"We are just going to have a good time," Sherwood said.
The snowboarders performing at the event were professionals and confidently executed various impressive jumps.
"Transworld Magazine is bringing in five professional Snowboarders to film and take pictures for their website and magazine. These riders have been in all the major competitions and even in snowboarding movies," Sherwood said.
The event began with impressive stunts and demonstrations, and it ended with a party. The event differed from what one might expect of the typical college party. Countless students flooded the actual snowboarding area, lights were shut off, music blared and students waved glow-sticks in the air.
"I think it's cool that we can have clean fun," junior Dee Walker said.
"They (Liberty students) can have the party scene without the alcohol and drugs," Sherwood said. "We can glorify God with our talents and music. Students can meet and see some of the best Snowboarders in the world. This is the place to be Friday night."
The Liberty Mountain Snowflex Centre is a phenomenon unique to Liberty University. Midnight Madness gave Liberty students the opportunity to witness firsthand everything that Snowflex has to offer.
"Snowflex has been a blessing to the community and the ski industry. We are focused on serving and helping the community. We have people that travel from all over the country just to ski at Snowflex," Sherwood said.
"The students need to take advantage of this ski resort in their backyard —Free lessons, free rentals and free fun. No other college or person gets this opportunity," Sherwood said.
For more information about future events and Snowflex recreation pricing, visit liberty.edu/snowflex.