Oklahoma! set to lead a spirited year of theater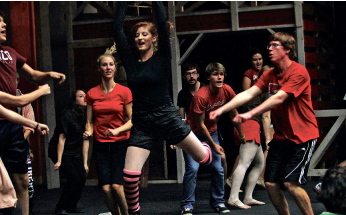 Counts of four cued teams of actors onto the floor of Liberty University's theater practice room. Tights and shorts, cowboy hats and baskets waved back and forth as each actor and dancer followed the lead of their choreographer in preparation for the Department of Theater Arts upcoming show, "Oklahoma!"
Rodgers and Hammerstein's great American show, "Oklahoma!" will take stage at the Tower Theater in Liberty's Green Hall Sept. 23 through Oct. 15, ushering in a season of shows focused on spirit and hope.
"This year's shows are unique in their authentic American feel," Producer and Director Linda Nell Cooper said. "I think they all have this pioneer spirit about them, which makes them very Americana. It is very much about the American people who have triumphed over adversities."
Chosen primarily for the senior theater students who will be using their acting experience as a platform for their future career, Liberty's 2011-12 Theater department will be performing "Little Shop of Horrors," "Romeo and Juliet," "Rag Time," Alfred Hitchcock's "The 39 Steps" and "Peter Pan."
"We always rise up and build again," Cooper said. "That's what Oklahoma's all about, that's what Ragtime is all about, even Peter Pan. It's the idea that the future is a good one and that there's always hope at the end of it."
Senior Rachel Osterhus, who will be playing the character of Lori, is looking forward to being part of a show focused on American strength.
"I love the story. It's set in the west. It's full of American spirit," Osterhus said. "I love Lori's Character. She's a spitfire, stubborn and independent. She's a fun, down-to-earth, fascinating character."
The show, which was originally seen as a broadway production in 1943, will be given a revived feel as Cooper and her theatre staff add their own concepts.
"My concept for the show is Queen Anne's Lace which grows as a weed in the middle of a field but it's beautiful," Cooper said. "It has this old fashioned feel to it in the middle of 2011. When you see it, you are reminded of yesterday. We are going with these colors of 2011 but with a layer of vintage, antique lace over it."
The show mixes technicolor with old country imagery.
"It's kind of fun to bring back something old," Osterhus said. "I think it will bring in families or people who maybe know the classics."
Knowing that Oklahoma may not be a familiar show to some individuals brings some excitement to Cooper and the cast.
"I am looking forward to telling these older stories with this fresh approach and giving them to an audience who have never seen them," Cooper said. "It's almost like giving them theatre history."
With a year of experience in their new theatre and the success of Phantom of the Opera behind them, Liberty Theater is hoping to see a greater audience than ever before.
"We have already doubled our average ticket sales from last year," Cooper said. "We now have an audience that knows what to expect from our theatre. Now they can come with a peace of mind, knowing that they are going to enjoy themselves."
To see the full line of Liberty Tower Theater's 2011-12 shows, visit the
Department of Theater Arts webpage. Tickets are available at the Vines Center Box Office by calling (434)582-SEAT (7328) or by visiting the Department of Theater Arts website.